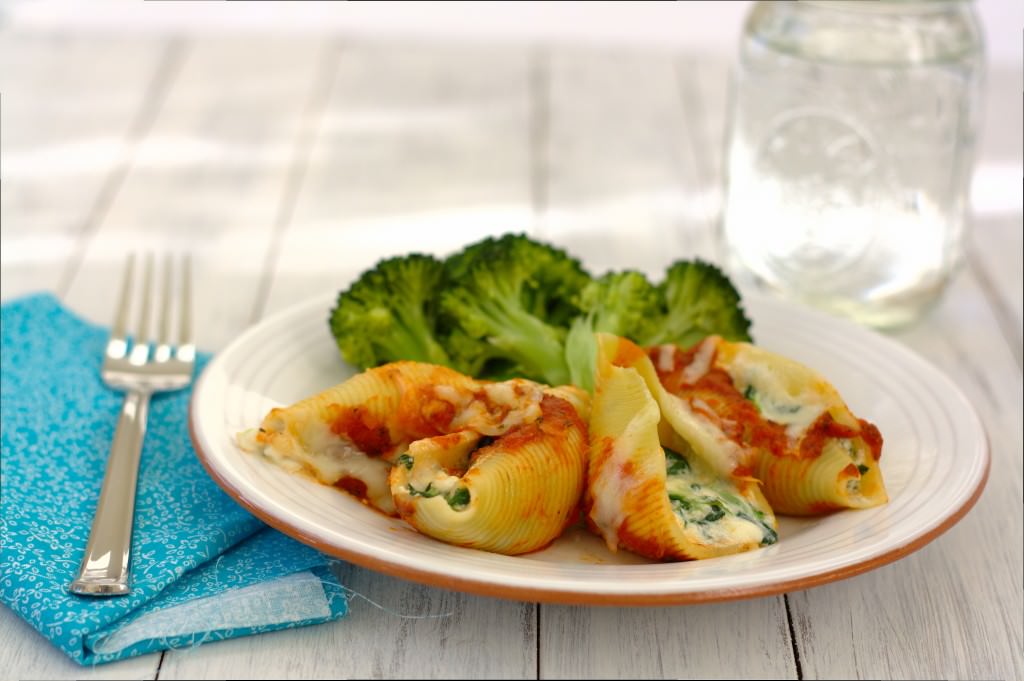 These days I'm all about getting the most out of my cooking. I love it when I find a recipe that not only feeds us for two nights in a row, but also freezes well. Investing time in the kitchen is even more rewarding when there is a big payoff, and in my world a quick meal that just needs heating up on a busy weeknight is a pretty big payoff. This cheesy spinach stuffed shells recipe makes a lot, plus it's hard to go wrong with cheesy pasta. I don't make special "kid meals" for Julia and William- they either eat what we're eating as a family or they don't. But it is nice when dinner is something that they love and enjoy, and these were enjoyed by all.
If you love cheese, then these shells are for you. Filled with a mixture of four cheeses and spinach, and then topped with marinara and grated mozzarella, these shells are totally cheesy and totally delicious. The cottage cheese works surprisingly well in the filling, making them a bit healthier without you noticing at all. When I make these, we get two meals out of them, plus I freeze a third of the shells for a later meal. These shells are so good and so easy to make, that they've gotten me thinking about other stuffed shell possibilities… maybe with even more veggies inside?
Cheesy Spinach Stuffed Shells
Makes about 8 servings
Ingredients:
12 oz. box jumbo shells
15 oz. container ricotta cheese
12 oz. cottage cheese
1 cup Italian blend grated cheese
¾ cup grated Parmesan cheese
½ tsp. salt
¼ tsp. pepper
Dash of ground nutmeg
10 oz. box frozen spinach, defrosted with liquid rung out
24 oz. jar marinara sauce
1 ½ cups grated Mozzarella cheese
Directions:
Preheat oven to 375 degrees F.
Bring a large pot of salted water to a boil. Cook pasta according to package directions for just shy of al dente. You want to be sure that they don't overcook or they will fall apart when you fill them. Drain and lay the shells out on a sheet of parchment paper. Let cool while you make the filling.
In a large bowl, combine the ricotta, cottage cheese, Italian blend cheese, Parmesan, salt, pepper, and nutmeg. Stir in the defrosted, drained spinach.
Spray a 9 x 13 baking dish with cooking spray, as well as a smaller baking dish (I like to use a freezer-safe baking dish so that I can freeze part of the shells). Spoon about a tablespoon of the cheese mixture into each shell and lay seam side up in the baking dishes. Pour the sauce over the top and sprinkle with the mozzarella cheese.
Cover the dish with foil and bake for 30 minutes. (If you are freezing part of the shells to save for a later meal, leave them unbaked and make sure they are completely cool, then cover the shells with plastic wrap, pressing it down close to the shells. Cover the dish with a lid and freeze. Defrost for a day in the fridge and then bake as usual.)
Source: Slightly adapted from Eat, Live, Run.