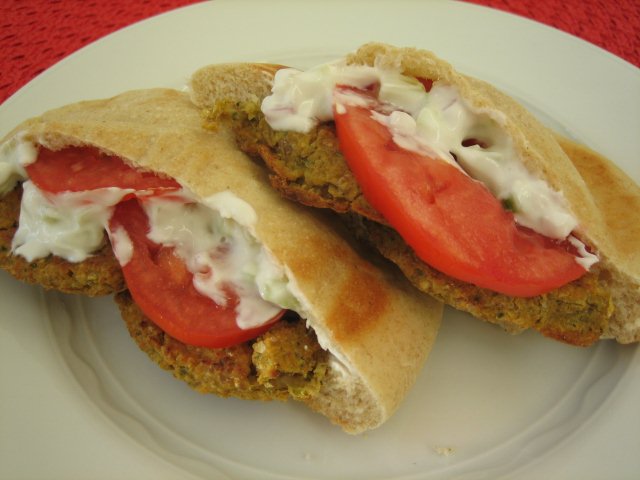 Falafel is a Middle Eastern dish, usually made from ground chickpeas and served in a pita or flatbread. I had never tried falafel before making this recipe, which has now become one of our favorites. I have since eaten falafel out and still enjoy this recipe just as much. I like how this recipe calls for baking the falafel, making it a healthy option for a meat-free meal.
The falafel has a little spice to it, but it is not overpowering, and the cucumber-yogurt sauce really balances out the spice. You can adjust the amount of ground red pepper you use based on how much spice you like. This recipe is fairly easy, but you do need to remember to get started in plenty of time to cook the bulgur for 30 minutes before combining the falafel ingredients. A few times, I've forgotten about this 30 minute cook time, and was then eating dinner later than expected. While the bulgur cooks, you can prep the other ingredients.
I like to serve my falafel in homemade whole wheat pitas, topped with slices of tomato.
Baked Falafel Sandwiches with Cucumber-Yogurt Sauce
Makes 6 sandwiches
For Falafel:
3/4 cup water
1/4 cup uncooked bulgur
3 cups cooked chickpeas (garbanzo beans)- this is a little less than two 15.5 oz. cans
1/2 cup chopped fresh cilantro
1/2 cup chopped green onions
1/3 to 1/2 cup water
2 tablespoons all-purpose flour
1 tablespoon ground cumin
1 teaspoon baking powder
3/4 teaspoon salt
1/4 to 1/2 teaspoon ground red pepper- I usually use only 1/4 teaspoon
3 garlic cloves
Cooking spray
For Cucumber-Yogurt Sauce:
1 cup plain fat-free or low-fat Greek yogurt
1/2 cup diced seedless cucumber
1/4 cup minced red onion
1 teaspoon fresh lemon juice
For Serving:
6 pitas or flatbreads
12 slices tomato
Directions:
Bring 3/4 cup water to a boil in a small saucepan; add bulgur to pan. Remove from heat; cover and let stand 30 minutes or until tender. Drain and set aside.
To prepare Cucumber-Yogurt Sauce, combine all four ingredients and stir until well blended. Cover and chill until ready to serve.
Preheat oven to 425 degrees F. Combine chickpeas and next 9 ingredients (through garlic) in a food processor; pulse 10 times or until well blended and smooth (mixture will be wet). Spoon chickpea mixture into a large bowl; stir in bulgur.
Divide mixture into 12 equal portions (about 1/4 cup each) and shape each portion into a 1/4-inch thick patty. Place patties on a baking sheet coated with cooking spray. Bake for 10 minutes on each side or until browned. Spread about 2 1/2 tablespoons sauce onto each pita or flatbread. Top each with 2 falafel patties and 2 tomato patties. Serve immediately.
Falafel recipe from Cooking Light, December 2007; Cucumber-Yogurt Sauce recipe from Cooking Light, January 2007