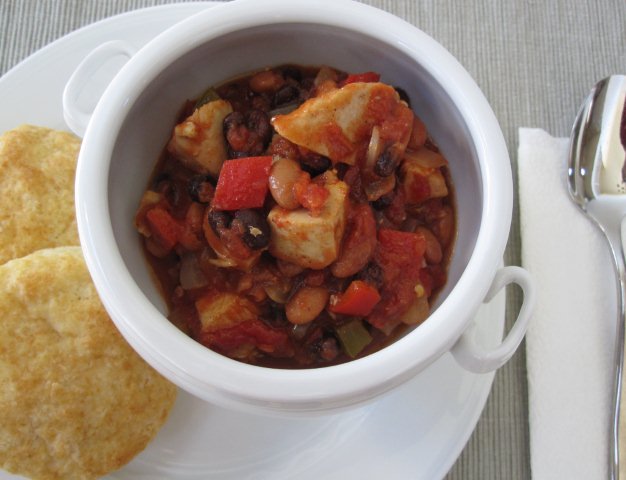 I have been wanting to make chicken chili for a while now, and I decided that my family's Halloween get together would be the perfect time to try out this recipe. I will definitely be making this again, as it was enjoyed by all. This chili does have a good amount of spice to it, so it's the perfect meal to warm you up on a cold evening. If you want less spice, you can omit the chipotle chili in adobo sauce and reduce the amount of red pepper flakes or cayenne pepper. My family enjoyed it just as it is, topped with a little cheddar cheese.
I like how this chili contains a good amount of vegetables (onion, bell peppers, and tomatoes) as well as protein from the chicken and beans. It's a dish that you can feel good about eating and serving to your family.
Chicken Chili
Serves 6-8
Ingredients:
3 boneless, skinless chicken breasts
Salt and pepper
2 yellow onions, chopped
2 tablespoons olive oil
3 cloves garlic, minced
3 bell peppers (use any colors you like)
2 tsp. chili powder
2 tsp. ground cumin
1/4 tsp. red pepper flakes
1/2 tsp. cayenne pepper
1/2 tsp. dried oregano
1 chipotle chili in adobo sauce, finely diced
2 tsp. kosher salt
2 (28 oz.) cans whole peeled tomatoes in juice, undrained
2 (15 oz.) cans beans, drained and rinsed (I used black and pinto)
Directions:
Preheat the oven to 375 degrees F. Line a rimmed baking sheet with foil. Place the chicken breasts on the foil, and season with salt and pepper. Fold the foil over the chicken to make a "packet." Roast about 40 minutes, until the chicken is cooked through. Allow to cool enough to handle, and shred or chop into bite-sized pieces.
Meanwhile, heat the olive oil in a large pot or Dutch oven over medium-high heat. Saute the onions 10-15 minutes, until tender and translucent. Add the garlic to the pot and saute just until fragrant, about 1 minute. Mix in the chopped bell peppers, chili powder, cumin, red pepper flakes, cayenne, oregano, chipotle, and salt. Cook 5 more minutes. Place the canned tomatoes in the bowl of a food processor. Pulse briefly so the tomatoes are cut into large chunks. Add the tomatoes with the sauce to the pot and bring the mixture to a boil. Reduce to a simmer and cook for 30 minutes, uncovered, stirring occasionally.
Stir in the chicken and beans, and allow to simmer for another 20 minutes.
Recipe adapted from Annie's Eats, originally from Barefoot Contessa Parties by Ina Garten