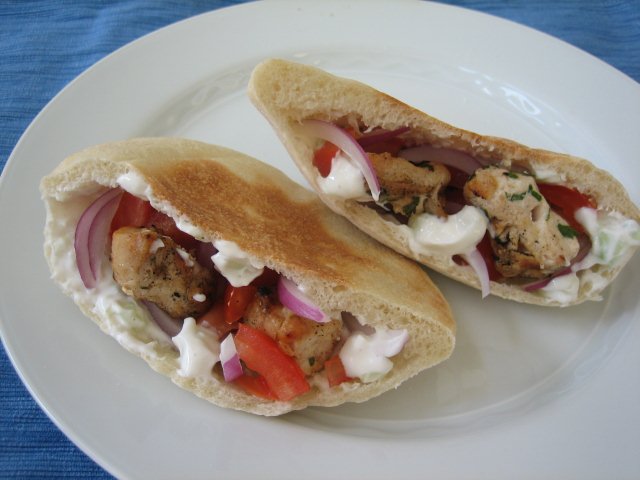 I was going to title this post, "Chicken Gyros," but gyros traditionally involve rolling the meat, vegetables, and yogurt sauce up in pocket-less pitas, rather than putting the filling inside the pita pockets. I made this meal with my first ever batch of homemade pitas, and was so excited to see the pockets form when the pitas puffed up as they baked. I just had to put something in those pockets! Thus, we have "Pitas with Chicken and Tzatziki Sauce," rather than "Chicken Gyros." Same basic concept, though.
I stuffed the pitas with leftover grilled chicken from the Garlic Lemon Chicken Kabobs that we made the night before. The garlic lemon flavor of the chicken was perfect for this meal. Since I invested some time in making homemade pitas, it was nice to make use of the leftover chicken to save some prep time later on.
In addition to the garlic lemon chicken, the pitas were filled with tomato, red onion, and tzatziki sauce. Tzatziki sauce is a yogurt sauce made from yogurt, cucumber, garlic (I may have left this out- I can't remember now), white wine vinegar, and lemon juice. I used Greek yogurt, which is thicker than regular yogurt, so I skipped the step of straining the yogurt that some recipes call for.
However you do the specifics, meat, veges, and yogurt sauce wrapped in pitas makes for a delicious meal. Enjoy!
Pitas with Chicken and Tzatziki Sauce
Ingredients:
For the tzatziki sauce:
16 oz. plain Greek yogurt (not nonfat, if possible)
1/2 hothouse cucumber or 1 regular cucumber, peeled, seeded, and finely chopped
2-3 cloves garlic, finely minced
1 tsp. white wine vinegar
Squeeze of fresh lemon juice
Salt and pepper
For assembling the pitas:
Directions:
To prepare the tzatziki sauce, mix together the Greek yogurt, cucumber, garlic, white wine vinegar, and lemon juice. Add salt and pepper to taste. Refrigerate for at least 30 minutes to allow the flavors to meld together.
Assemble the pitas, either by filling the pockets or rolling the filling ingredients up in the pitas: chicken, tomatoes, red onion, and tzatziki sauce. Serve immediately.
Tzatziki sauce recipe adapted from Elly Says Opa!