Sweet Potato Fries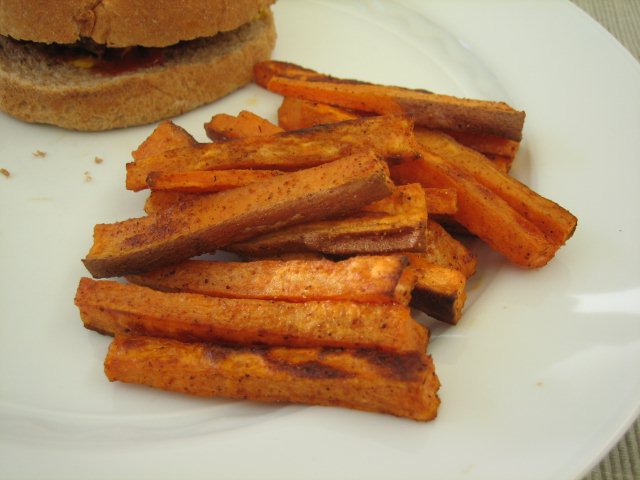 We make these sweet potato fries at least every other week, as a side for turkey burgers. I think that sweet potatoes have such a delicious flavor on their own, that they hardly need anything added to them to make them taste great. (In fact, sometimes all we do is add a bit of olive oil, salt, and pepper, and bake.) This recipe combines a simple mix of seasonings that I always have on hand in my spice cupboard. You can feel good about eating these fries, too, because they are baked, not fried. Sweet potatoes are a nutritious choice because they are a good source of fiber and vitamins, including beta-carotene. The next time you need a side to go along with your burger, try this recipe!
Sweet Potato Fries
Makes 4 Servings
Like most moms, you are probably struggling to find the TIME to put a homemade dinner on the table for your family on busy weeknights. If you already had a plan, a grocery list, easy recipes and prep-ahead tips, you could have a REAL dinner on your table in a flash! I have been meal planning and prepping for years and now I am sharing my plan with YOU. You will save time, save money cooking at home, and eat real food.
Learn more about my Time-Saving Healthy Family Meal Plan.
Ingredients:
cooking spray
2 scrubbed medium sweet potatoes
2 Tablespoons olive oil
1/2 teaspoon each of salt, ground cumin, chile powder, and paprika
1/4 teaspoon ground pepper
Directions:
Preheat oven to 425 degrees. Spray a baking sheet with cooking spray.
Cut potatoes into wedges and place in a medium bowl. Toss with the olive oil. Combine the salt, cumin, chile powder, paprika, and pepper in a small bowl. Sprinkle the seasonings over the potatoes and toss until evenly coated.
Place the potatoes on the prepared baking sheet in a single layer. Bake for 20 minutes, or until potatoes are tender and begin to brown, turning once.
Recipe adapted from Fitness Magazine, July/August 2009
This site contains affiliate links. If you make a purchase through these links, I may receive a small commission. Thank you for supporting Kristine's Kitchen!