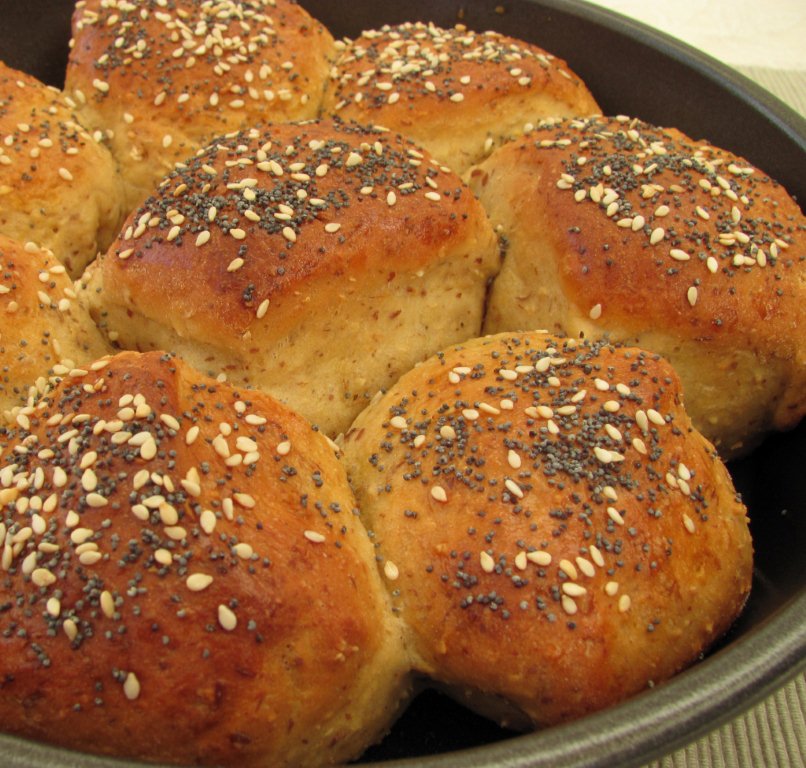 As we enter the warmer days of spring, I am craving more main dish salads for dinner. I enjoy having some type of bread with my salad (I guess all of those vegetables make me crave carbs

), and these multigrain rolls are a great choice. Since they are filled with whole grains, you can feel good about eating them alongside a healthy salad.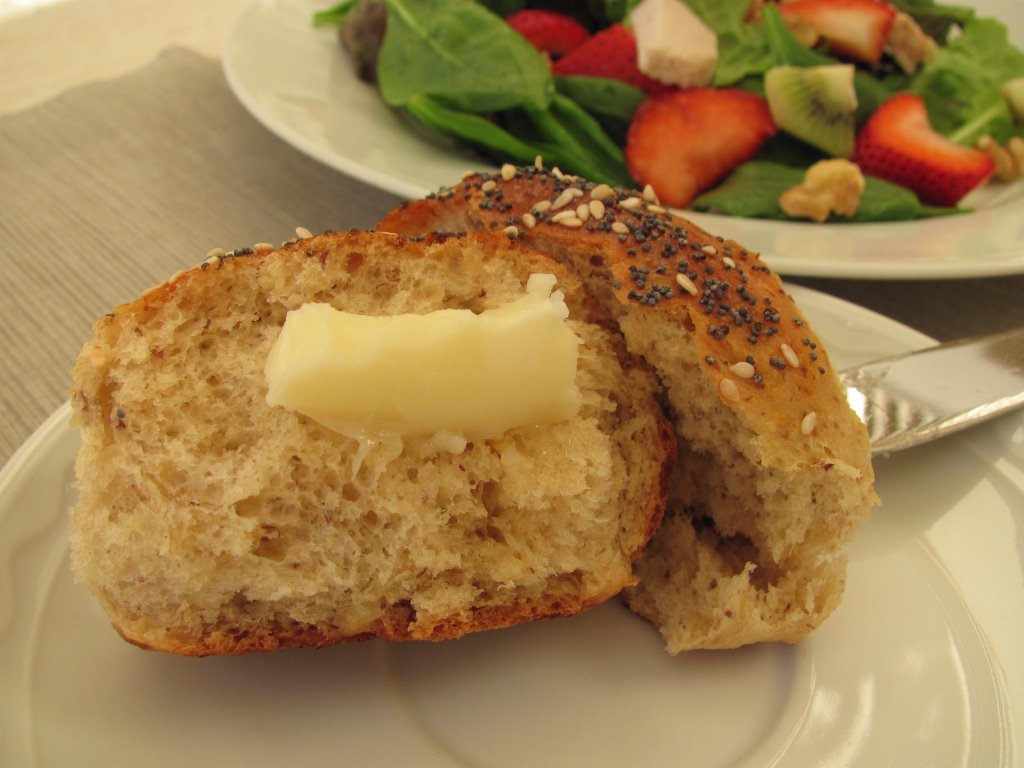 I personally love the taste of whole grains, and if you gave me a sandwich on white bread I'd probably not enjoy it nearly as much as if it were on whole wheat. So, it makes sense that I loved these rolls. I really enjoy the heartier, nuttier taste that you get when you bake with whole wheat flour, oats, or other whole grains.
When I made these rolls, I did not have any oat bran, so I ground some old-fashioned oats in my food processor and used those instead. The only other changes I made to the recipe were to decrease the amount of salt and pepper in my rolls; I've included both the original amounts and the amounts that I used in the recipe below. The recipe yields 16 rolls, so you can freeze the extras for a later date and have homemade rolls with no effort, which is a pretty good deal in my book.
One year ago:  Chipotle Chicken Taco Salad
Multigrain Rolls
Makes 16 rolls
Ingredients:
For the dough:
1/2 cup oat bran (I used 1/2 cup old-fashioned oats ground in a food processor)
1/4 cup flax seeds
1/2 cup boiling water
1 cup warm milk (105-110 degrees F)
2 1/4 teaspoons instant (rapid rise) yeast
1/4 cup honey
2 large eggs
2/3 cup old-fashioned (not instant) oats
7 oz. (1 1/4 cups) whole wheat flour
1 teaspoon freshly ground black pepper (I used 1/4 teaspoon)
1 tablespoon salt (I used 1 1/2 teaspoons)
15 oz. (about 3 cups) all-purpose flour
Oil, for greasing the bowl
For the topping:
1 large egg yolk
1 tablespoon water
2 tablespoons mixed seeds (poppy, sesame, etc.)
Coarse salt, for sprinkling
Directions:
Combine the oat bran and flax seeds in a small bowl. Pour the boiling water into the bowl and mix to moisten. Let sit until the water is absorbed, about 5 minutes. Set aside to cool.
Meanwhile, in the bowl of an electric mixer, combine the milk, yeast, and honey; mix briefly to blend. With the dough hook and the mixer on low speed, mix in the eggs, oats, wheat flour, pepper, salt, and oat bran mixture until combined. Slowly add enough all-purpose flour, 1/2 cup at a time, to make a soft, slightly sticky dough. Continue to knead on medium-low speed, about 3 minutes.
Form the dough into a ball. Transfer the dough to a lightly oiled bowl, turning once to coat. Cover with plastic wrap or a clean kitchen towel and let rise in a warm place until doubled in bulk, about 1 1/2-2 hours.
Brush a baking dish lightly with oil (I used two 9-inch round baking dishes). On a lightly floured surface, turn the dough out and divide into 16 equal pieces, about 2 1/2 ounces each. Form each portion into a ball and place the dough balls in the baking dish, spaced slightly apart so they have room to grow together. Cover and let rise until puffy and nearly doubled in bulk, about 30 minutes.
Preheat the oven to 375 degrees F. In a small bowl whisk together the egg yolk and water. Brush lightly over the rolls. Sprinkle the unbaked rolls with the seed mixture and coarse salt. Bake until the tops are golden, about 26 minutes (cover with foil part-way through baking if the rolls are browning too much). Let cool 10-15 minutes before removing from the pan.
Recipe slightly adapted from Annie's Eats, originally adapted from Martha Stewart's Baking Handbook