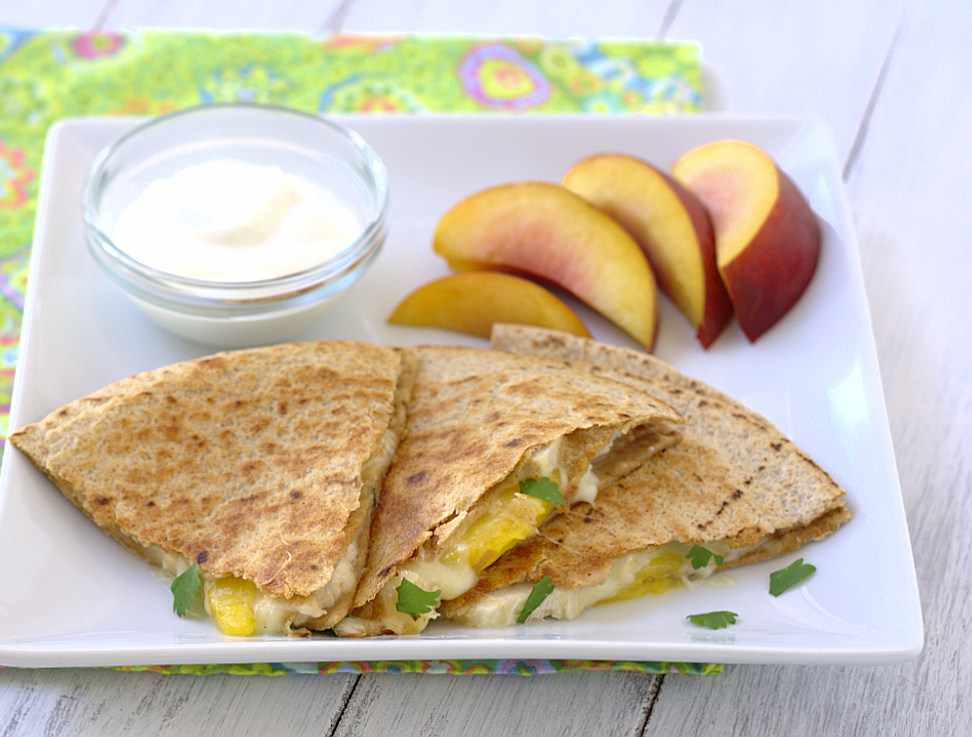 I originally made this recipe over a year ago, and intended to put it on the blog right away. Well, I lost the recipe for a while, then found it, got busy, and here we are a year later. Once I actually found the recipe again I went back to my computer files and looked up the photos I had taken of these quesadillas last July. Those pictures (which I think I actually liked at the time) are so atrocious there was no way I could put them on my blog now. It's hard to believe how far I've come with my food photography in the past year, and though my photos are so much better now, I still have a lot to learn.
Since we enjoyed these Pepper Jack, Chicken, and Peach Quesadillas so much, I had to make them again (and take a new photo ;) ). This quick, easy meal is a keeper, and I hope you'll find time to make it before peaches go out of season.
One year ago: Peanut Butter Oatmeal Chocolate Chip Cookies
Pepper Jack, Chicken, and Peach Quesadillas
Makes 4 servings
*Note: If you're serving the quesadillas to kids, try replacing the spicy pepper jack cheese with Monterey Jack, mozzarella, or fontina.
Ingredients:
For the yogurt dipping sauce:
1 teaspoon honey
1/2 teaspoon fresh lime juice
1/2 cup low-fat Greek yogurt
For the quesadillas:
4 (8-inch) flour tortillas (I used whole wheat)
3/4 cup (3 ounces) shredded Pepper Jack cheese
1 cup chopped skinless, boneless cooked chicken breast (either leftover or from a rotisserie chicken)
1 cup thinly sliced peeled firm ripe peaches
4 teaspoons chopped fresh cilantro
Cooking spray
Directions:
Combine honey and lime juice in a small bowl, stirring well with a whisk. Stir Greek yogurt into honey mixture; cover and chill until ready to serve.
Place tortillas flat on a work surface. Sprinkle 3 tablespoons cheese over half of each tortilla; top each tortilla with 1/4 cup chicken, 1/4 cup peaches, and 1 teaspoon cilantro. Fold tortillas in half.
Heat a large nonstick skillet over medium heat. Coat pan with cooking spray. Place 2 quesadillas in the pan. Cook 2 minutes on each side or until tortillas are crisp and lightly browned. Remove quesadillas from pan; set aside, and keep warm. Repeat with remaining quesadillas. Cut each quesadilla into wedges. Serve with yogurt sauce.
Recipe adapted from Cooking Light, August 2010