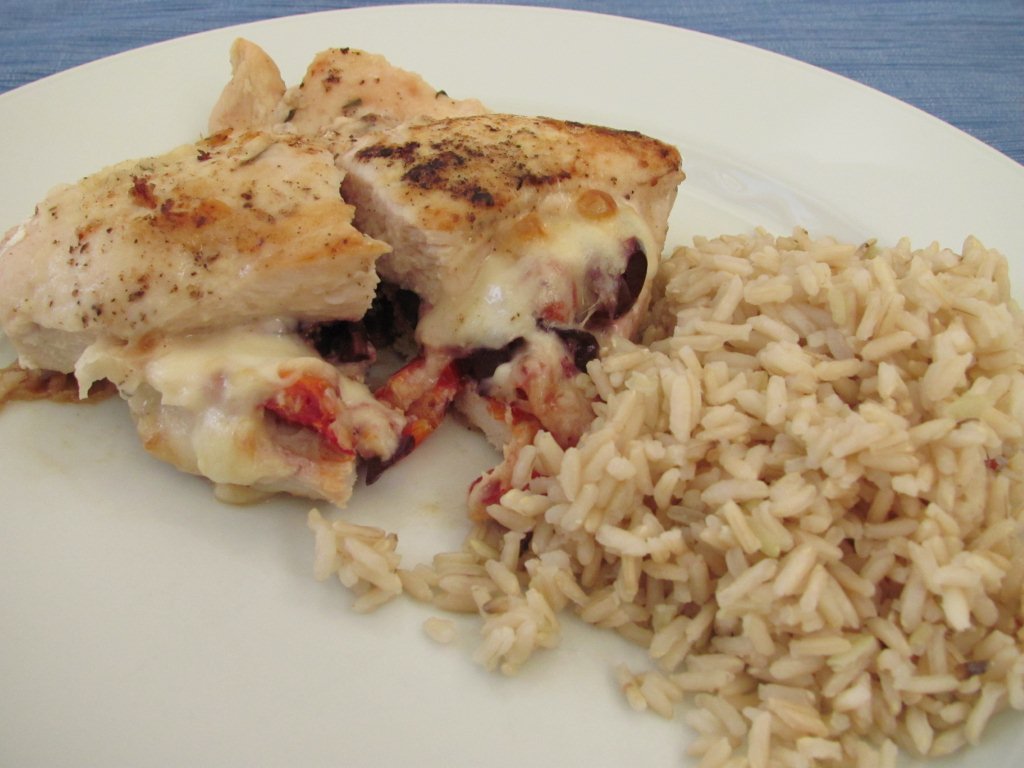 Stuffing chicken breasts is an easy way to dress up your usual chicken dinner. Simply cut a pocket into each piece of chicken and fill with whatever strikes your fancy- this version uses sundried tomatoes, kalamata olives, and mozzarella cheese, but you could also use spinach, roasted red peppers, basil, feta, goat cheese… the possibilities are endless.
The recipe below includes a simple pan sauce to serve with the chicken. When I made this meal, I had every intention of making the pan sauce but ended up skipping it at the last minute. The chicken was delicious without it, and I'm sure it would be even more delicious with the sauce.
One year ago:  Pizza Dough
Chicken Stuffed with Sundried Tomatoes, Olives, and Mozzarella
Makes 2 servings
Ingredients:
2 boneless, skinless chicken breasts
6-8 kalamata olives, pitted and chopped
3 Tbsp. sundried tomatoes, chopped
2 slices mozzarella cheese
1/4 cup flour
1/4 tsp. dried thyme
Salt and pepper
2 tsp. olive oil
2 Tbsp. chicken broth
2 Tbsp. white wine
Directions:
Preheat the oven to 350 degrees.
Cut a pocket into your chicken breasts and fill each one with the sundried tomatoes, kalamata olives, and a slice of mozzarella cheese.
Mix together the flour, thyme, and some salt and pepper. Lightly dredge the chicken breasts in the flour mixture.
Heat the oil in a skillet over medium heat. Add the chicken and brown, about 2 minutes per side. Transfer the chicken to an oven-safe baking dish (or use an oven-proof skillet from the start). Finish cooking the chicken in the oven until it is cooked through, about 15 minutes.
To the same skillet that you browned the chicken in, add the chicken broth and wine. Cook over medium heat, scraping up the browned bits and reducing the liquid by half. Spoon the sauce over the chicken and serve.
Recipe slightly adapted from Elly Says Opa!