Notes:
You may have noticed that beginning this week, I am now including a "Printable recipe" link in my posts.  I hope this will make it easier for you to print those recipes that you want to try!
Since posting this Crispy Chicken Fingers recipe, I have since found a new favorite chicken fingers recipe that I think is even better.  Visit this post for the new recipe.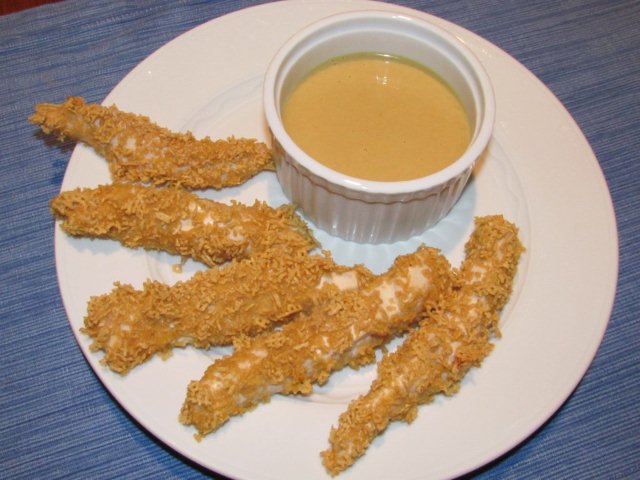 These chicken fingers are a great way to satisfy a craving for chicken tenders, but in a home-cooked, healthy way. A quick soak in buttermilk tenderizes the chicken, while you prep the other ingredients for the dish. The crispiness of the chicken fingers comes from coating the chicken pieces in crushed Corn Chex or corn flakes cereal. These chicken fingers are baked rather than fried, so they taste great and are good for you (and baking them is so much easier, too).
The honey-mustard dipping sauce that accompanies these chicken fingers is amazing. I ended up just eyeballing the ingredient measurements for the sauce, and it turned out to be the best honey-mustard I've ever had. Brad and I couldn't believe how much it tasted like restaurant honey-mustard sauce, but without the mayo! (Those who know us well know that we can't stand mayonnaise, and that whenever possible we like to substitute plain Greek yogurt or regular plain yogurt.) The sauce is simply a mixture of Dijon mustard, Greek yogurt, and honey. I've done my best to estimate the measurements I used below, but go ahead and just eyeball, do a taste test, and adjust as necessary.
Served with a side of steamed vegetables, a green salad, or some baked sweet potato fries, these chicken fingers make a tasty and nutritious meal.
Crispy Chicken Fingers with Honey-Mustard Sauce
Makes 4 servings
Ingredients:
For the Chicken Fingers:
Cooking spray
1 1/4 pounds boneless, skinless chicken breast halves, cut across into 1/2-inch thick slices
1/2 cup lowfat buttermilk
4 cups whole-grain corn cereal such as Corn Chex or corn flakes
1/4 teaspoon salt
Pinch of freshly ground black pepper
For the Honey-Mustard Sauce:
*I just eyeball the amounts, do a taste test, and adjust as needed.
1/4 cup Dijon mustard
2-3 Tablespoons plain lowfat Greek yogurt
2 Tablespoons honey
Directions:
Preheat oven to 400 degrees F. Coat two baking sheets with cooking spray.
Combine the chicken and buttermilk in a shallow dish, turning the chicken to coat it with the buttermilk. Cover and refrigerate for about 15 minutes.
Place the cereal in a zip-top plastic bag and crush using a rolling pin. Transfer the crumbs to a shallow dish and mix in the salt and pepper. Dip each piece of chicken into the cereal to fully coat and place on prepared baking sheets. Bake until cooked through. (Time will vary depending on size of chicken pieces- I baked mine for 14 minutes and they were perfect.) Leave the chicken on the baking sheets to cool slightly; this will allow the chicken to become crispier.
To make the honey-mustard sauce, combine all three ingredients in a small bowl and stir until smooth.
Recipe adapted from The Food You Crave by Ellie Krieger