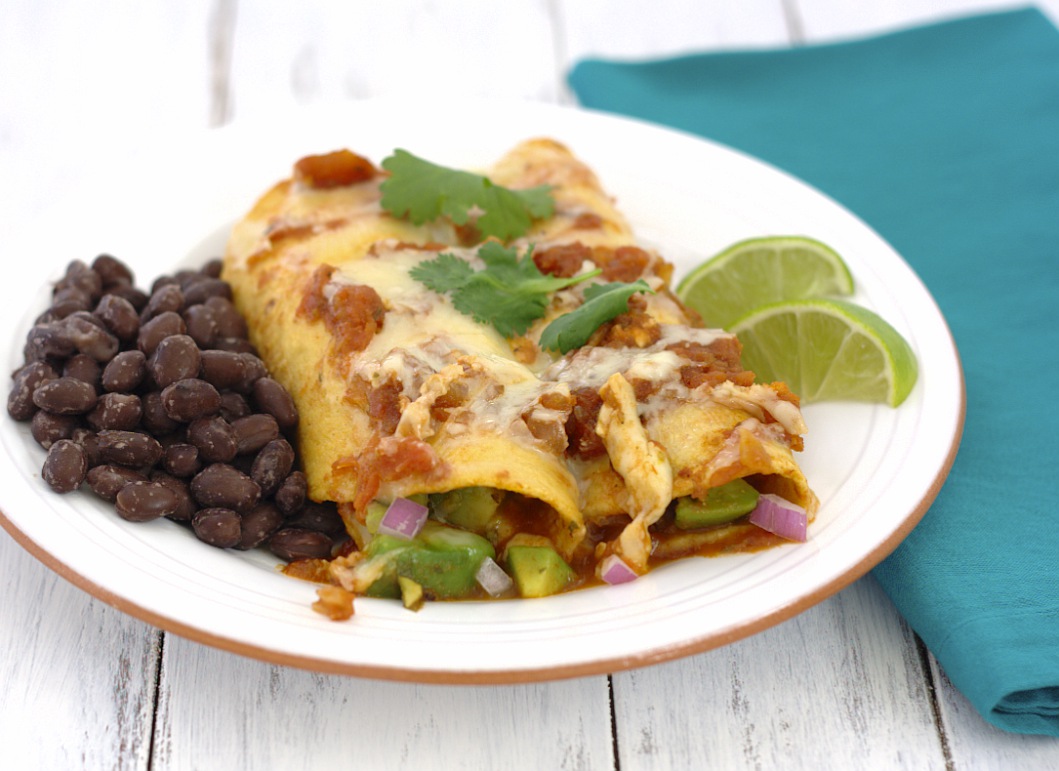 Enchiladas are a favorite meal in our house, and I have a feeling these avocado enchiladas are going to become a part of our regular recipe rotation. I made these for dinner tonight, and we couldn't stop raving about how good they are. Plus, they are the easiest enchiladas I've ever made, which is important since dinner prep time is crazy around here lately.
Most weeknights I need to do most of the cooking before Brad gets home if we're going to eat dinner at a reasonable time. Luckily, William is a happy and content baby most of the time, and he already enjoys watching me cook from his bouncy seat (sometimes- he is still a not-quite-three-month-old baby, after all). I never know what to expect from Julia recently; sometimes she's great at playing independently while I cook, sometimes she helps me in the kitchen, and sometimes she decides that cooking time is a great time to demand my attention. Needless to say, cooking dinner is rarely stress-free.
I think I was overly ambitious when planning this week's menu. As I began making these enchiladas, I was wondering if I should just be making something super simple like scrambled eggs and pancakes from the freezer instead. The enchiladas ended up taking me maybe 45 minutes to get together, which is not bad for enchiladas, especially while trying to keep two kiddos entertained at the same time. We enjoyed eating these so much that it was totally worth the time. I hope you'll try them and enjoy them as much as we did!
One year ago:  Grilled Chicken with Peach Watermelon Salsa
Avocado Enchiladas
Makes 5 servings
Ingredients:
For the sauce:
1 tsp. canola oil
1/2 yellow onion, finely chopped
2 garlic cloves, minced
1/2 tbsp. sugar
1 tbsp. cumin
1/2 tbsp. dried oregano
1/2 bottle of beer
15 oz. can crushed tomatoes
1/2 cup water
1/2 tbsp. balsamic vinegar
For the enchiladas:
3 ripe avocados, peeled, seeded, and chopped into 1/2-inch pieces
1/2 cup fresh cilantro, chopped
1/4 tsp. salt
1/4 red onion, finely chopped
Juice of 1 lime
10 corn tortillas
1 1/2 cups grated Monterey Jack cheese
Directions:
To make the sauce, heat the oil in a saucepan. Add onion and saute 5 minutes. Add garlic, sugar, cumin, and oregano; cook 30 seconds or until fragrant. Add beer, tomatoes, and water and simmer 20 minutes, stirring occasionally. Remove from heat and stir in balsamic vinegar.
Preheat oven to 400 degrees F. Place avocados, cilantro, salt, red onion, and lime juice in a bowl and stir gently to combine. Spread 1/2 cup sauce on the bottom of a 13 x 9-inch baking dish. Dip tortillas in remaining sauce and spoon 3 tablespoons of filling onto each. Sprinkle a little grated cheese in each tortilla and roll up. Arrange, seam side down, in the baking dish. Pour the remaining sauce over the top and sprinkle with remaining cheese. Cover with foil and bake for 20-25 minutes. Remove foil and bake 2-5 minutes more. Let stand for 5 minutes and serve.
Source: Adapted from Fitness Magazine, September 2008.