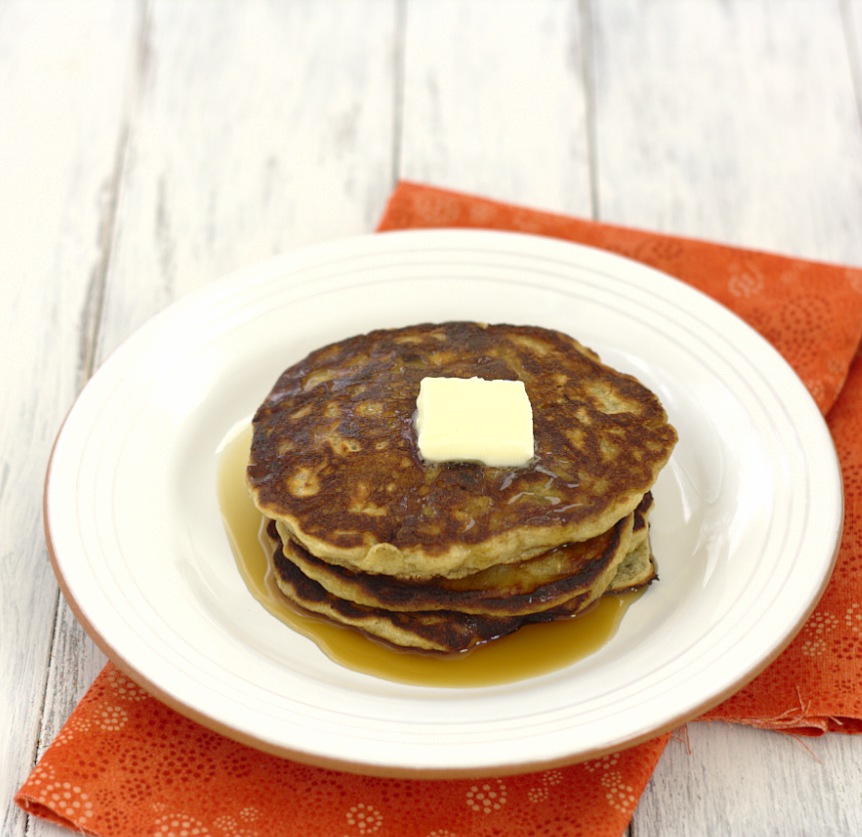 Do you do breakfast for dinner? We love to make pancakes on the weekend, and then freeze the leftovers for an easy dinner during the week. Scramble some eggs, add some fresh fruit, and you've got an easy, delicious meal.
These Banana, Raisin, and Oatmeal Pancakes were a nice change from the buttermilk or blueberry pancakes that we usually make. The oatmeal makes them a little heartier, and they had a nice banana flavor without it being overwhelming. I wasn't sure I would be a fan of raisins in my pancakes, but I used half of the one cup called for in the original recipe, and thought the pancakes were perfect that way.
One year ago:  Plum Coffeecake Muffins
Banana, Raisin, and Oatmeal Pancakes
Makes about 12 pancakes
Ingredients:
1 cup old-fashioned oats
1 cup all-purpose flour
1/4 cup packed light brown sugar
1 1/2 tsp. baking powder
1/2 tsp. baking soda
1/4 tsp. ground cinnamon
3/4 cup plain Greek yogurt
3/4 cup whole milk
2 large eggs
1/2 tsp. vanilla extract
2 ripe mashed bananas
1/2 cup raisins
1/4 cup unsalted butter, melted
Cooking spray
Directions:
Combine oats, flour, brown sugar, baking powder, baking soda, and cinnamon in a medium bowl, whisking to blend. In a large bowl, whisk together yogurt, milk, eggs, and vanilla. Add the dry ingredients to the wet and whisk until just blended. Fold in the mashed banana, raisins, and melted butter.
Heat a nonstick pan over medium heat and spray with cooking spray. Working in batches, pour batter by 1/3 cupfuls onto pan. Cook pancakes until bubbles form on top and bottoms are golden brown, about 2 minutes. Flip pancakes and cook until bottoms are golden brown, about 2 minutes more.
Source: Very slightly adapted from Bon Appetit, February 2004.