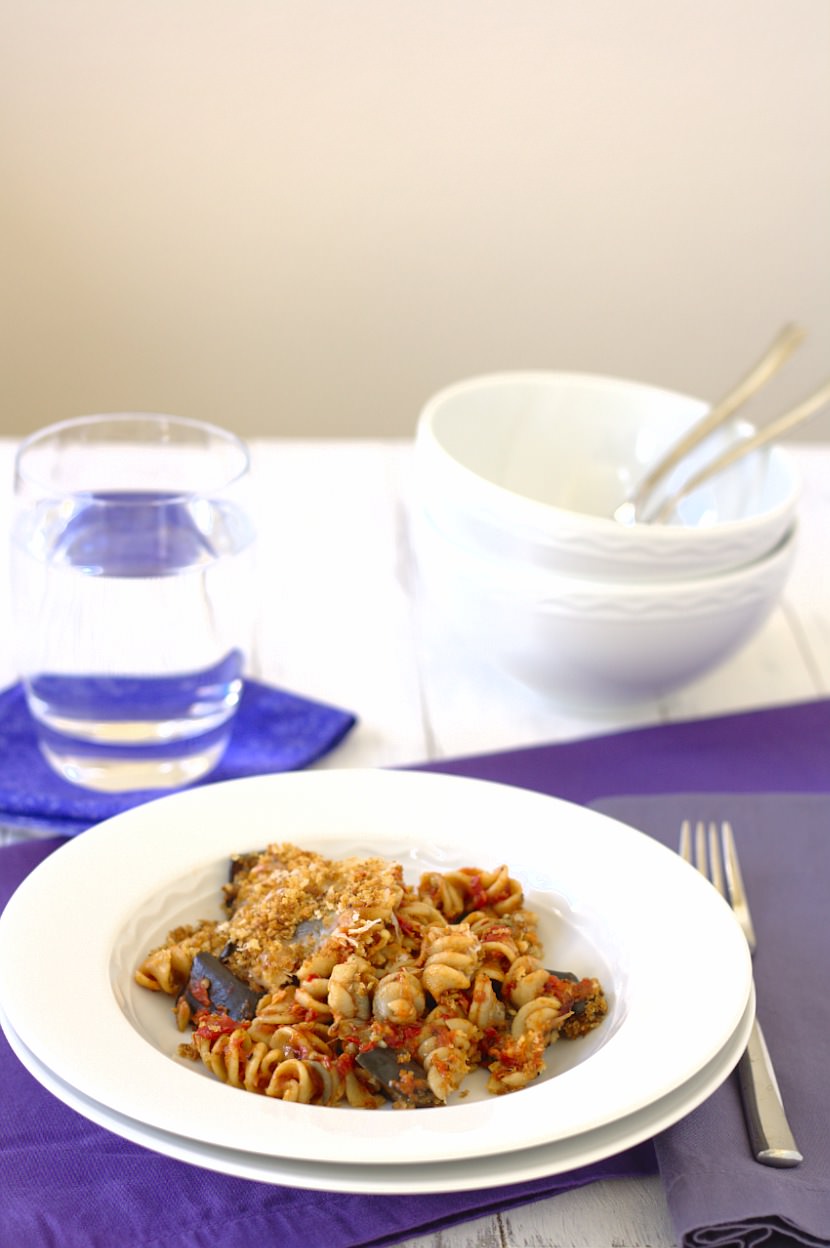 Pasta. Cheese. Breadcrumbs. Roasted red peppers. Eggplant. Do I have your attention yet? (Or did I lose you with the eggplant?) Even if eggplant isn't one of your favorite things, I'll bet you'll love this baked pasta. The eggplant is cooked perfectly and almost melts into the sauce, which is an amazing combination of roasted red peppers and fire roasted tomatoes.  As we were eating this for dinner, we kept saying this is one of the best pastas we've made recently.  And then we said it all over again the next night while eating the leftovers.
The original recipe calls for making this a one-pot dish by using an oven-safe skillet to brown the eggplant and cook the sauce and pasta. Then you can transfer the whole skillet to the oven to melt the cheese and brown the panko topping. While I always appreciate efforts to save extra dishes that need to be washed, I decided to transfer the pasta mixture to a separate baking dish before finishing it off in the oven to make storing the leftovers easier.
If you have some fresh basil on hand, sprinkle it on the top of the baked pasta right before serving. I didn't have any, so that's why my photo is lacking that pop of green. Either way, this cheesy baked pasta is definitely a keeper.
Cheesy Baked Pasta with Roasted Red Pepper Sauce and Eggplant
Makes 6-8 servings
Ingredients:
3/4 cup panko bread crumbs
4 tbsp. olive oil
Kosher salt and freshly ground black pepper
3 ounces Parmesan cheese, grated (1 1/2 cups)
1 (14.5 ounce) can fire-roasted diced tomatoes
16 oz. jar roasted red peppers, rinsed, patted dry, and coarsely chopped (or 2 roasted red peppers if roasting your own)
1 1/2 lbs. eggplant, chopped into 1-inch cubes
5 garlic cloves, minced
1 tsp. minced fresh oregano, or 1/4 tsp. dried
1/8-1/4 tsp. crushed red pepper flakes
4 cups water
12 ounces pasta shapes, such as rotini
6 ounces mozzarella cheese, sliced thin
2-3 tbsp. chopped fresh basil
Directions:
Adjust oven rack to middle position and preheat to 375 degrees F. Toss the panko with 1 tablespoon olive oil and season with salt and pepper. Spread on a rimmed baking sheet and bake, stirring often, until golden brown, 5 to 10 minutes. Let cool slightly and then toss with 1/2 cup of the Parmesan.
Meanwhile, pulse the tomatoes and roasted red peppers in a food processor until coarsely ground and no large pieces remain, about 10 pulses.
Line a large plate with a double layer of paper towels. Toss the eggplant in a medium bowl with 1 teaspoon of salt and then spread it out over the plate. Microwave uncovered, about 10 minutes, tossing halfway through. The eggplant should be dry and starting to shrivel. Let it cool slightly, then transfer it back to the bowl and toss with 1 tablespoon olive oil. Set aside.
Heat 1 tablespoon olive oil in a 12-inch skillet or Dutch oven over medium heat. Add the eggplant and cook until well browned and tender, about 10 minutes, stirring occasionally. Return to the bowl.
Reduce the heat to medium-low and add the remaining tablespoon olive oil. Saute the garlic, red pepper flakes, and oregano until fragrant but not browned, about 1 minute. Stir in the tomato mixture and increase the heat to medium-high. Stir in 3 1/2 cups of water and the pasta. Cover and cook at a vigorous simmer, stirring often, until the pasta is tender, 15 to 18 minutes.
If the sauce seems too thick, stir in the remaining 1/2 cup water. Add the remaining 1 cup Parmesan and the eggplant, and season with salt and pepper. Stir to combine and then transfer to an oven-safe baking dish. Top with the slices of mozzarella and sprinkle with the panko mixture. Bake until the topping is well-browned and the cheese is melted, 5 to 10 minutes. Sprinkle fresh basil over the top and serve.
Source: adapted from America's Test Kitchen, Pasta Revolution, via Pink Parsley