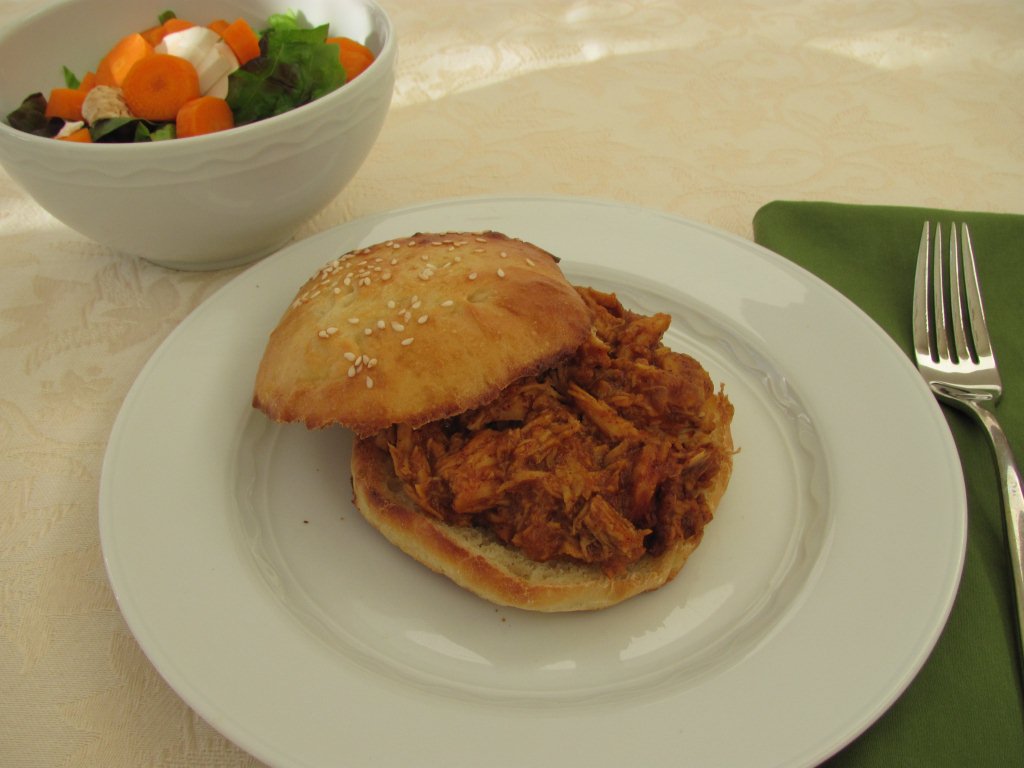 My slow cooker is one of the items in my kitchen that tends to just sit on the shelf until I remember it's there and wonder to myself why I don't use it more often. It's so easy to throw a few ingredients in and let the slow cooker do the rest.
For these pulled chicken sandwiches, you mix up a delicious homemade barbecue sauce. The sweet, spicy sauce is combined with the shredded chicken during the last hour of cooking. (If you're really short on time, you can use store-bought barbecue sauce, although I do have to say that the homemade version is much, much better.) I served my pulled chicken on toasted homemade burger buns, and it was a delicious meal that I can't wait to make again. I think I just might have to put these sandwiches on the menu for next week…
Slow Cooker Pulled Chicken Sandwiches
Makes 4-5 servings
Ingredients:
1 yellow onion, sliced
4 boneless, skinless chicken breast halves
1/2 cup low-sodium chicken broth or water
1/2 cup ketchup
1/4 cup molasses
1/4 cup mustard
3 tablespoons apple cider vinegar
2 1/4 teaspoons chili powder
1 1/2 teaspoons ground cumin
1/2 teaspoon ground black pepper
1/4 teaspoon ground ginger
Hamburger buns, for serving
Directions:
Scatter onion over bottom of slow cooker. Place chicken breast halves on top of onion, and pour in broth or water. Cover and cook on low, until chicken is tender and shreds easily with a fork, about 5-6 hours.
Remove chicken from slow cooker and place on a plate. Discard onions and cooking liquid and wipe out slow cooker with a paper towel. Use two forks to pull the chicken apart into thin shreds.
Return the chicken to the slow cooker. Combine the remaining ingredients (except for the buns) in a medium bowl and whisk to mix well. Add this barbecue sauce to the slow cooker with the chicken, and stir to combine. Cover and cook for 1 hour longer on low, stirring occasionally. Serve on toasted hamburger buns.
Recipe significantly adapted from Cooking Light.