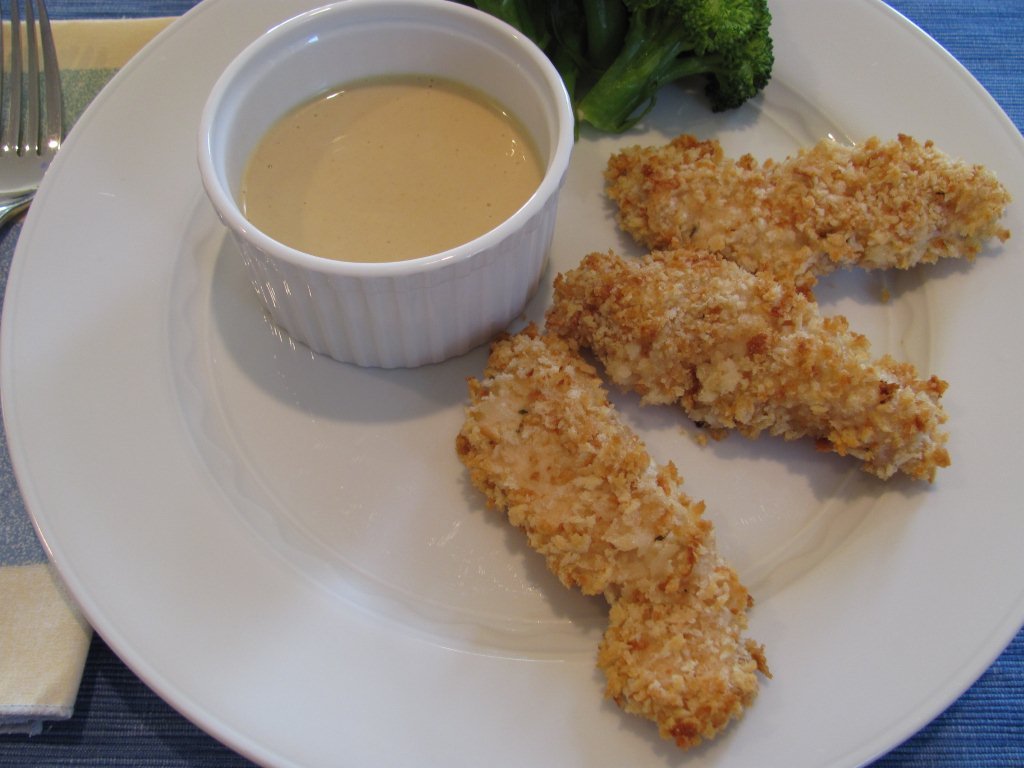 These chicken fingers come out of the oven crispy on the outside and tender on the inside. The chicken is dredged in three different mixtures before baking. Toasted panko breadcrumbs contribute crispiness, and small amounts of garlic powder, cayenne pepper, Dijon mustard, and thyme give the chicken the perfect amount of seasoning. I posted another chicken fingers recipe a few months ago, and while those were good, the ones I am posting today are much better and I will use this recipe from now on.
We like to dip our chicken fingers in homemade honey mustard sauce, and I have included the sauce recipe below. Barbecue sauce (or ketchup, which is usually Julia's choice

) is a great dipping option as well. Baked Chicken Fingers make a healthy meal that can be enjoyed by kids and adults alike.
Baked Chicken Fingers
Makes 4 servings
Ingredients:
2 cups panko (Japanese-style breadcrumbs)
2 tablespoons canola oil
1/2 cup all-purpose flour
1 teaspoon garlic powder
1/8 teaspoon cayenne pepper
3 large egg whites
1 tablespoon water
1 tablespoon Dijon mustard
1 teaspoon minced fresh thyme or 1/4 teaspoon dried
Vegetable oil spray
1 1/2 pounds boneless, skinless chicken breasts (3 to 4), trimmed and cut into 3/4-inch-wide fingers
Salt and pepper
Directions:
Adjust an oven rack to the middle position and heat the oven to 475 degrees. Combine the panko and oil in a 12-inch skillet and toast over medium heat, stirring often, until golden, 8 to 10 minutes.
Transfer the crumbs to a shallow dish and let cool slightly. Combine the flour, garlic powder, and cayenne in a second shallow dish. In a third shallow dish, whisk the egg whites, water, mustard, and thyme together.
Spray a wire rack with vegetable oil spray and place over a rimmed baking sheet. Season the chicken with salt and pepper. Working with a few pieces of chicken at a time, dredge them in the flour, then dip in the egg whites, and finally, coat with the toasted crumbs, pressing on them to adhere. Lay the breaded chicken on the prepared wire rack.*
Spray the tops of the chicken lightly with vegetable oil spray. Bake until the chicken is cooked through, 10 to 12 minutes. Serve.
*Note: I don't have an oven safe rack, so I baked mine directly on the baking sheet and they still came out crispy, although I'm sure baking the chicken on a wire rack would make it even better.
Recipe from The America's Test Kitchen Healthy Family Cookbook
Honey-Mustard Sauce
*I just eyeball the amounts, do a taste test, and adjust as needed.
Ingredients:

1/2 cup Dijon mustard
4-6 Tablespoons plain lowfat Greek yogurt
4 Tablespoons honey
Directions:
Combine all three ingredients in a small bowl and stir until smooth.
Recipe heavily adapted from The Food You Crave by Ellie Krieger